Contemporary College Students Reflect on Their High School Cliques
Contemporary College Students Reflect on Their High School Cliques Heading link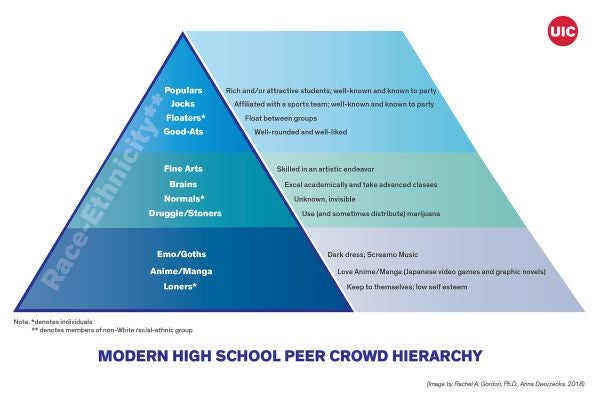 New research by Rachel Gordon and colleagues examines academic anxiety, stereotypes, social status and social values reported by recent high school graduates and finds some new views not held by previous generations.
The study "illuminates how the retrospective accounts of college-bound students offer insight into high school social hierarchies during a time of rapid social change," as the researchers explain in their paper.
The article was published online in the Journal of Adolescent Research December 25, 2018.
Rachel Gordon, PhD, professor of sociology and faculty member of the  Institute of Government and Public Affairs, led the study, collaborating with long-time colleagues at the University of Texas at Austin.
The study was funded by the Eunice Kennedy Shriver National Institute of Child Health and Human Development, one of the National Institutes of Health (HD081022). Dr. Gordon, is the principal investigator of the grant, "Predictors of Achievement from Early Childhood to Adulthood," which IHRP administers.
Learn more about this study in UIC News or on the journal website: Crabbe R., Pivnick, L. K., Bates, J., Gordon, R. A., & Crosnoe, R. (2018). Contemporary College Students' Reflections on Their High School Peer Crowds. Journal of Adolescent Research. https://doi.org/10.1177/0743558418809537
Modified on May 26, 2021