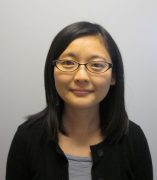 Angela Kong, PhD, MPH, RD
Clinical Assistant Professor of Nutrition
Contact
Building & Room:
465 Westside Research Office Bldg.
Address:
1747 West Roosevelt Road Chicago, IL 60608
Office Phone:
Fax:
Email:
About
Dr. Angela Kong is a clinical assistant professor of nutrition in the UIC College of Applied Health Sciences and conducts research at the Institute for Health Research and Policy, where she is an IHRP Fellow.
Dr. Kong's research addresses the role of lifestyle and contextual factors (e.g., environmental, social, cultural, and institutional/policy) in the etiology, prevention, and treatment of obesity.  Her current research objectives are to 1) identify multi-level factors that mediate behaviors related to energy balance based on a socio-ecological framework and to determine whether these relationships are moderated by race/ethnicity; and 2) to improve dietary assessment methods for use in racially/ethnically diverse communities.
A registered dietitian, she earned her doctorate in nutritional sciences from the University of Washington and her MPH in nutrition from the University of Minnesota. From 2010 to 2013, she was a postdoctoral trainee in the NCI-funded Cancer Education and Career Development Program at UIC.
Research Interests
Methodological issues related to dietary assessment, measurement of food environments and other contextual factors related to dietary intake and obesity in minority populations, lifestyle behavior-based obesity prevention interventions, and nutritional epidemiology.
Selected Publications
See a wider selection of Dr. Kong's research in these peer-reviewed articles on PubMed.
Kim K, Kong A, Flanigan RC, et al. Pre-diagnostic carbohydrate intake and treatment failure after radical prostatectomy for early-stage prostate cancer. Cancer Causes Control. 2019;30(3):271–279. doi:10.1007/s10552-019-1134-4.  [See abstract.]
Kong A, Schiffer L, Antonic M, Braunschweig C, Odoms-Young A, Fitzgibbon M. The relationship between home- and individual-level diet quality among African American and Hispanic/Latino households with young children. Int J Behav Nutr Phys Act. 2018;15(1):5. Published 2018 Jan 15. doi:10.1186/s12966-018-0645-9.  [See abstract.]
Buscemi J, Berlin KS, Rybak TM, et al. Health Behavior and Weight Changes Among Ethnic and Racial Minority Preschoolers and Their Parents: Associations Across 1 Year. J Pediatr Psychol. 2016;41(7):777–785. doi:10.1093/jpepsy/jsv165. [See abstract.]
Buscemi J, Blumstein L, Kong A, Stolley ML, Schiffer L, Odoms-Young A, Bittner C, Fitzgibbon ML. Retaining traditionally hard to reach participants: lessons learned from three childhood obesity studies. Contemp Clin Trials. 2015;42:98-104. [See abstract.]
Kong A, Vijayasiri G, Fitzgibbon ML, Schiffer LA, Campbell RT. Confirmatory factor analysis and measurement invariance of the child feeding questionnaire in low-income Hispanic and African-American mothers with preschool-age children. Appetite. 2015;90:16-22. [See abstract.]
Buscemi J, Kong A, Fitzgibbon ML, Bustamante EE, Davis CL, Pate RR, Wilson DK. Society of behavioral medicine position statement: elementary school-based physical activity supports academic achievement. Transl Behav Med. 2014 Dec;4(4):436-8. [See abstract.]
Kong A, Tussing-Humphreys LM, Odoms-Young AM, Stolley MR, Fitzgibbon ML. Systematic review of behavioural interventions with culturally adapted strategies to improve diet and weight outcomes in African American women. Obesity Reviews 2014;15:62-92.[See abstract]
Kong A, Odoms-Young AM, Schiffer LA, Kim Y, Berbaum ML, Porter SJ, Blumstein LB, Bess SL, Fitzgibbon ML. The 18-month impact of special supplemental nutrition program for women, infants, and children food package revisions on diets of recipient families. Am J Prev Med. 2014 Jun;46(6):543-51. [See abstract.]
Kong A, Jones BL, Fiese BH, Schiffer LA, Odoms-Young A, Kim Y, Bailey L, Fitzgibbon ML. Parent-child mealtime interactions in racially/ethnically diverse families with preschool-age children. Eat Behav. 2013 Dec;14(4):451-5. [See abstract.]
Odoms-Young AM, Kong A, Schiffer LA, Porter SJ, Blumstein L, Bess S, Berbaum ML, Fitzgibbon ML. Evaluating the initial impact of the revised Special Supplemental Nutrition Program for Women, Infants, and Children (WIC) food packages on dietary intake and home food availability in African-American and Hispanic families. Public Health Nutr. 2014 Jan;17(1):83-93. [See abstract.]
Kong A, Odoms-Young AM, Schiffer LA, Berbaum ML, Porter SJ, Blumstein L, Fitzgibbon ML. Racial/ethnic differences in dietary intake among WIC families prior to food package revisions. J Nutr Educ Behav. 2013 Jan;45(1):39-46. [See abstract.]
Tussing-Humphreys LM, Fitzgibbon ML, Kong A, Odoms-Young A. Weight loss maintenance in African American women: a systematic review of the behavioral lifestyle intervention literature. J Obes. 2013;2013:437369. [See abstract.]
Kong A, Beresford SAA, Alfano CM, Foster-Schubert KE,  Neuhouser ML, Johnson DB, et al. Self-monitoring and eating-related behaviors associated with 12-month weight loss among postmenopausal overweight-to-obese women in a dietary weight loss intervention. J Acad Nutr Diet. 2012 Sep;112(9):1428-1435. [See abstract.]
Kong A, Beresford SAA, Imayama I, Duggan C, Alfano CM, Foster-Schubert KE, et al. Adoption of diet-related self-monitoring behaviors varies by race/ethnicity, education, and baseline binge eating scores among postmenopausal women in a 12-month dietary weight loss intervention. Nutr Res. 2012;32(4):260-265.[See abstract]
Kong A, Beresford SAA, Alfano CM, Foster-Schubert KE, Neuhouser ML, Johnson DB, et al. Associations between snacking and weight loss and nutrient intake among postmenopausal overweight-to-obese women in a dietary weight loss intervention. J Am Diet Assoc. 2011 Dec; 111(12):1898-903.[See abstract]
Imayama I, Alfano CM, Kong A, Foster-Schubert KE, Bain CE, Xiao L, et al. Dietary weight loss and exercise interventions effects on quality of life in overweight/obese postmenopausal women: a randomized controlled trial. Int J Behav Nutr Phys Act. 2011 Oct 25; 8:118.[See abstract.]
Kong A, Neuhouser ML, Xiao L, Ulrich CM, McTiernan A, Foster-Schubert KE. Higher habitual intake of dietary fat and carbohydrates are associated with lower leptin and higher ghrelin concentrations in overweight and obese postmenopausal women with elevated insulin levels. Nutr Res. 2009;11:768-776.[See abstract.]
Stang J, Kong A, Story M, Eisenberg ME, Neumark-Sztainer D. Food and weight-related patterns and behaviors of Hmong adolescents. J Am Diet Assoc. 2007 Jun;107(6):936-41.[See abstract.]
Notable Honors
IHRP Fellow