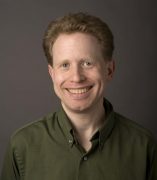 Ben Gerber, MD, MPH
Professor of Medicine
Member, Cancer Prevention and Control Program, UI Cancer Center
Contact
Building & Room:
454 Westside Research Office Bldg.
Address:
1747 West Roosevelt Road Chicago, IL 60608
Office Phone:
Fax:
Email:
About
Dr. Ben Gerber is a professor of medicine in the Division of Academic Internal Medicine and Geriatrics, of the UIC College of Medicine, where he serves as associate chief for education and scholarly activities. He is a Fellow of the UIC Institute for Health Research and Policy, and a core research investigator with the VA Center of Innovation for Complex Chronic Healthcare.
Dr. Gerber's research interests include chronic disease self-management and health behavior promotion through technology and health services delivery redesign. His research focuses on low-income minority populations and those with limited access to health services. He is currently the principal investigator of an NIH-funded study to evaluate community health workers and pharmacists in providing diabetes team management. His intervention research includes the use of iPads for multimedia education and mobile phones for text messaging. Dr. Gerber developed mytapp, a simple, 2-way text messaging application designed for chronic disease management support and the promotion of healthy behaviors.
He also co-directs (as co-principal investigator) of PREMIER, an NIH-funded postdoctoral training program for precision lifestyle medicine. Learn more.
Research Interests
Diabetes education multimedia for vulnerable populations, public health informatics, mobile technology for health.
Selected Publications
For other publications by Dr. Gerber, consult this PubMed list.
Biggers A, Sharp LK, Nimitphong H, et al. Relationship between depression, sleep quality, and hypoglycemia among persons with type 2 diabetes. J Clin Transl Endocrinol. 2019;15:62–64. Published 2019 Jan 2. doi:10.1016/j.jcte.2018.12.007. [See abstract.]
Bellfield EJ, Sharp LK, Xia Y, Gerber BS. Use of a Mobile App to Facilitate Blood Glucose Monitoring in Adolescents With Type 1 Diabetes: Single-Subject Nonrandomized Clinical Trial. JMIR Diabetes. 2018;3(1):e3. Published 2018 Feb 7. doi:10.2196/diabetes.8357. [See abstract.]
Sharp LK, Tilton JJ, Touchette DR, et al. Community Health Workers Supporting Clinical Pharmacists in Diabetes Management: A Randomized Controlled Trial. Pharmacotherapy. 2018;38(1):58–68. doi:10.1002/phar.2058. [See abstract.]
Gerber BS, Kannampallil T, Kitsiou S, Heckerling PS. Physician scientists should learn how to program. J Investig Med. 2017;65(8):e5. doi:10.1136/jim-2017-000573. [See abstract.]
Stolley M, Sheean P, Gerber B, et al. Efficacy of a weight-loss intervention for African American breast cancer survivors. J Clin Oncol. 2017;35(24):2820-2828. [See abstract.]
Kitsiou S, Paré G, Jaana M, Gerber B. Effectiveness of mHealth interventions for patients with diabetes: An overview of systematic reviews. PLoS One. 2017;12(3):e0173160. Published 2017 Mar 1. doi:10.1371/journal.pone.0173160. [See abstract.]
Sharp LK, Fisher EB, Gerber BS. Background and rationale for the Society of Behavioral Medicine's position statement: expand United States health plan coverage for diabetes self-management education and support. Transl Behav Med. 2015;5(3):354-356. [See abstract.]
Rojas E, Gerber BS, Tilton J, Rapacki L, Sharp LK. Pharmacists' perspectives on collaborating with community health workers in diabetes care. J Am Pharm Assoc (2003). 2015;55(4):429-33. [See abstract.]
Ruggiero L, Moadsiri A, Quinn LT, Riley BB, Danielson KK, Monahan C, Bangs VA, Gerber BS. Diabetes island: preliminary impact of a virtual world self-care educational intervention for African Americans with type 2 diabetes. JMIR Serious Games. 2014;2(2). [See abstract.]
Sharp LK, Carvalho P, Southward M, Schmidt ML, Jabine LN, Stolley MR, Gerber BS. Electronic personal health records for childhood cancer survivors: an exploratory study. J Adolesc Young Adult Oncol. 2014;3(3):117-122. [See abstract.]
Gerber B, Sharp LK, Fisher EB. Society of Behavioral Medicine Position Statement: Expand United States health plan coverage for diabetes self-management education and support (pdf). February 2014.
Ruggiero L, Riley BB, Hernandez R, Quinn LT, Gerber BS, Castillo A, Day J, Ingram D, Wang Y, Butler P. Medical assistant coaching to support diabetes self-care among low-income racial/ethnic minority populations: randomized controlled trial. West J Nurs Res. 2014 Feb 25-Oct;36(9):1052-73. [See abstract.]
Hernandez R, Ruggiero L, Riley BB, Wang Y, Chavez N, Quinn LT, Gerber BS, Choi YK. Correlates of self-care in low-income African American and Latino patients with diabetes. Health Psychol. 2014 Jul;33(7):597-607. [See abstract.]
Rimmer JH, Wang E, Pellegrini CA, Lullo C, Gerber BS. Telehealth weight management intervention for adults with physical disabilities: a randomized controlled trial. Am J Phys Med Rehabil. 2013 Dec;92(12):1084-94.[See abstract.]
Syed ST, Gerber BS, Sharp LK. Traveling towards disease: transportation barriers to health care access. J Community Health. 2013 Oct;38(5):976-93. [See abstract.]
Lora CM, Sokolovsky AW, Touchette DR, Jin J, Hu X, Gao W, Gerber BS. ACE inhibitor and ARB medication use among Medicaid enrollees with diabetes. Ethn Dis. 2013 Spring;23(2):189-95.[See abstract.]
Sharp LK, Ureste PJ, Torres LA, Bailey L, Gordon HS, Gerber BS. Time to sign: the relationship between health literacy and signature time. Patient Educ Couns. 2013 Jan;90(1):18-22. [See abstract.]
Gerber BS, Rapacki L, Castillo A, Tilton J, Touchette DR, Mihailescu D, Berbaum ML, Sharp LK. Design of a trial to evaluate the impact of clinical pharmacists and community health promoters working with African-Americans and Latinos with diabetes. BMC Public Health. 2012 Oct 23;12(1):891. [See abstract.]
Collins EG, O'connell S, McBurney C, Jelinek C, Butler J, Reda D, Gerber BS, Hurt C, Grabiner M. Comparison of walking with poles and traditional walking for peripheral arterial disease rehabilitation. J Cardiopulm Rehabil Prev. 2012 Jul-Aug;32(4):210-8.[See abstract.]
Nutescu EA, Bathija S, Sharp LK, Gerber BS, Schumock GT, Fitzgibbon ML. Anticoagulation patient self-monitoring in the United States: considerations for clinical practice adoption. Pharmacotherapy. 2011 Dec;31(12):1161-74. [See abstract.]
Khan MA, Shah S, Grudzien A, Onyejekwe N, Banskota P, Karim S, Jin J, Kim Y, Gerber BS. A diabetes education multimedia program in the waiting room setting. Diabetes Ther. 2011 Sep;2(3):178-88. [See abstract.]
Lora CM, Gordon EJ, Sharp LK, Fischer MF, Gerber BS, Lash JP. Progression of chronic kidney disease in Hispanics: Potential roles of health literacy, acculturation, and social support. Am J Kidney Dis. 2011 Aug;58(2):282-290.[See abstract]
Houston TK, Cherrington A, Coley HL, Robinson KM, Trobaughe JF, Williams JH, Foster PH, Ford DE,  Gerber BS, Shewchuk RM, Allison JJ. The art and science of patient storytelling-harnessing narrative communication for behavioral interventions: The ACCE Project. J Health Commun. 2011 Aug;16(7):686-97. [See abstract.]
Gordon HS, Gerber BS. What we've got here is a failure to communicate. J Gen Intern Med. 2011 Feb;26(2):104-6. Editorial.[See abstract]
Rimmer JH, Hsieh K, Graham BC, Gerber BS, Gray-Stanley JA. Barrier removal in increasing physical activity levels in obese African American women with disabilities. J Womens Health (Larchmt). 2010 Oct;19(10):1869-76. [See abstract.]
Kositsawat J, Freeman VL, Gerber BS, Geraci S. Association of A1c levels with vitamin D status in U.S. adults: Data from the National Health and Nutrition Examination Survey. Diabetes Care. 2010 Jun;33(6):1236-8. [See abstract.]
Gerber BS, Cho YI, Arozullah AM, Lee SY. Racial differences in medication adherence: a cross-sectional study of Medicare enrollees. Am J Geriatr Pharmacother. 2010 Apr;8(2):136-45. [See abstract]
Gerber BS, Cano AI, Caceres ML, Smith DE, Wilken LA, Michaud JB, Ruggiero LA, Sharp LK. A pharmacist and health promoter team to improve medication adherence among Latinos with diabetes. Ann Pharmacother. 2010 Jan;44(1):70-9. [See abstract.]
Gerber BS, Stolley MR, Thompson AL, Sharp LK, Fitzgibbon ML. Mobile phone text messaging to promote healthy behaviors and weight loss maintenance: a feasibility study. Health Informatics J. 2009 Mar;15(1):17-25. [See abstract.]
Rimmer JH, Rauworth A, Wang E, Heckerling PS, Gerber BS. A randomized controlled trial to increase physical activity and reduce obesity in a predominantly African American group of women with mobility disabilities and severe obesity. Prev Med. 2009;48(5):473-479.[See abstract.]
Heckerling PS, Canaris GJ, Flach SD, Tape TG, Wigton RS, Gerber BS. Predictors of urinary tract infection based on artificial neural networks and genetic algorithms. Int J Med Inform. 2007 Apr;76(4):289-96.[See abstract.]
Gerber BS, Solomon MC, Shaffer TL, Quinn MT, Lipton RB. Evaluation of an internet diabetes self-management training program for adolescents and young adults. Diabetes Technol Ther. 2007 Feb;9(1):60-7.[See abstract.]
Heckerling PS, Gerber BS, Weiner SJ. The "resident's dilemma"? Values and strategies of medical residents for education interactions: a cellular automata simulation. Methods Inf Med. 2006;45(4):455-61.[See abstract.]
Gerber BS, Brodsky IG, Lawless KA, Smolin LI, Arozullah AM, Smith EV, Berbaum ML, Heckerling PS, Eiser AR. Implementation and evaluation of a low-literacy diabetes education computer multimedia application. Diabetes Care. 2005; 28(7):1574-1580.[See abstract.]
Cashen M, Dykes P, Gerber B. eHealth technology and internet resources: barriers for vulnerable populations. J Cardiovasc Nurs. 2004;19(3):209-214.[See abstract.]
Notable Honors
IHRP Fellow
Health Disparities Scholar, National Center on Minority Health and Health Disparities, 2002
University of Michigan Internal Medicine Senior Research Project Award, 1998
Catherine Dobson Prize for Clinical Research Presentation, 1995
Finalist, American Medical Informatics Association Student Competition, 1993
Faulkner Award, Diabetes Action Research and Education Foundation, 2013
UIC Hispanic Center of Excellence Research Mentor of the Year, 2011
Alpha Omega Alpha Faculty Teaching Award, 2010