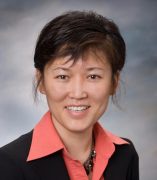 Jun Ma, MD, PhD, FAHA, FABMR
Beth and George Vitoux Professor of Medicine and Director of Vitoux Program on Aging and Prevention
Contact
Building & Room:
347 Westside Research Office Bldg.
Address:
1747 West Roosevelt Road Chicago, IL 60608
Office Phone:
Fax:
Email:
About
Dr. Jun Ma is the Beth and George Vitoux Professor of Medicine and director of Vitoux Program on Aging and Prevention in the Department of Medicine. With a broad background in preventive medicine, nutritional science, and biometry, she specializes in clinical and translational lifestyle medicine research in primary care and nonmedical community settings. She is an IHRP Fellow.
Dr. Ma directs an integrative precision lifestyle medicine and translation research portfolio.
Since 2008, she has secured more than $15 million in NIH and AHRQ funding as the principal investigator of innovative lifestyle intervention research studies that address highly intractable health problems and disparities among racially/ethnically and socioeconomically diverse adult populations in private mixed-payer, managed care, and public health systems, as well as in communities.
She is one of the principal investigators of PREMIER, an NIH-funded postdoctoral training program for precision lifestyle medicine. Learn more.
She has directed the development and publication of new randomization methods and tools, including a Web-based comprehensive system for minimization methods. In addition to her experience leading experimental research, ranging from pilot randomized studies to multicenter pragmatic trials, she has often published on national patterns of outpatient care quality and disparities in lifestyle-related physical and mental health disorders using complex population survey data, such as the National Ambulatory Care Surveys and the National Health and Nutrition Examination Survey.
In January 2017, Dr. Ma was elected to the Academy of Behavioral Medicine Research, an international honorary society recognizing senior scientists for their research excellence in behavioral medicine.
Before joining the UIC faculty in 2015, Dr. Ma was a senior scientist at the Palo Alto Medical Foundation Research Institute and a consulting professor in Stanford University's Department of Medicine, with which she continues to collaborate on research. She is a Fellow of the American Heart Association and serves on the AHA Council on Epidemiology and Prevention and the AHA Council on Lifestyle and Cardiometabolic Health.
Dr. Ma earned her doctorate in nutritional sciences from the University of Nebraska, Lincoln, and her medical degree from West China University of Medical Sciences in Chengdu, Sichuan, China, with an emphasis in preventive medicine.
Research Interests
Dr. Ma's research focuses on new delivery models and neurophysiological mechanisms of behavior change interventions addressing multiple major chronic conditions that are the leading causes of morbidity and mortality in the United States, including obesity, coronary heart disease, hypertension, prediabetes, metabolic syndrome, asthma, chronic obstructive pulmonary disease, and depression. 
She is particularly interested in effective prevention and control of these debilitating and costly chronic conditions through comprehensive, mechanism-driven lifestyle interventions that are individual patient-centered and, at the same time, scalable and sustainable for population health management through use of Internet and mobile technologies. She is strongly committed to lifestyle intervention research specifically targeting underserved populations, such as Latinos.
Selected Publications
Nyenhuis SM, Shah N, Ma J, Marquez DX, Wilbur J, Cattamanchi A, Sharp LK. Identifying Barriers to Physical Activity Among African American Women with Asthma. Cogent Med. 2019;6(1). pii: 1582399. Epub 2019 Feb 27.
Ma J, Karnovsky A, Afshinnia F, Wigginton J, Rader DJ, Natarajan L, et al. Differential network enrichment analysis reveals novel lipid pathways in chronic kidney disease. Bioinformatics. 2019 Sep 15;35(18):3441-3452. doi: 10.1093/bioinformatics/btz114.
Ma J, Lewis MA, Smyth JM. Translational behavioral medicine for population and individual health: gaps, opportunities, and vision for practice-based translational behavior change research. Transl Behav Med. 2018 Sep 8;8(5):753-760. doi: 10.1093/tbm/ibx032.
Nyenhuis SM, Dixon AE, Ma J. Impact of Lifestyle Interventions Targeting Healthy Diet, Physical Activity, and Weight Loss on Asthma in Adults: What Is the Evidence? J Allergy Clin Immunol Pract. 2018 May – Jun;6(3):751-763. doi: 10.1016/j.jaip.2017.10.026.
Rosas LG, Lv N, Azar KMJ, Xiao L, Hooker SP, Lewis MA,… Ma J. HOMBRE: A randomized controlled trial to compare two approaches to weight loss for overweight and obese Latino men (Hombres con Opciones para Mejorar el Bienestar y bajar el Riesgo de Enfermedades crónicas; men with choices to improve well-being and decrease chronic disease risk). Contemp Clin Trials. 2018 May;68:23-34. doi: 10.1016/j.cct.2018.02.019.
Azar KMJ, Bennett GG, Nolting LA, Rosas LG, Burke LE, Ma J. A framework for examining the function of digital health technologies for weight management. Transl Behav Med. 2018 Mar 1;8(2):280-294. doi: 10.1093/tbm/ibx050.
Williams LM, Pines A, Goldstein-Piekarski AN, Rosas LG, Kullar M, Sacchet MD, … Ma J. The ENGAGE study: Integrating neuroimaging, virtual reality and smartphone sensing to understand self-regulation for managing depression and obesity in a precision medicine model. Behav Res Ther. 2018 Feb;101:58-70. doi: 10.1016/j.brat.2017.09.012.
Ma J, Xiao L, Lv N, Rosas LG, Lewis MA, Goldhaber-Fiebert JD, et al. Profiles of sociodemographic, behavioral, clinical and psychosocial characteristics among primary care patients with comorbid obesity and depression. Prev Med Rep. 2017 Aug 5;8:42-50. doi: 10.1016/j.pmedr.2017.07.010.
Lv N, Azar KMJ, Rosas LG, Wulfovichd S, Xiao L, Ma J. Behavioral lifestyle interventions for moderate and severe obesity: A systematic review. Prev Med. 2017 Jul;100:180-193. doi: 10.1016/j.ypmed.2017.04.022.
Xiao L, Lv N, Rosas LG, Au D, Ma J. Validation of clinic weights from electronic health records against standardized weight measurements in weight loss trials. Obesity (Silver Spring). 2017 Feb;25(2):363-369. doi: 10.1002/oby.21737.
Smyth JM, Juth V, Ma J, Sliwinski M. A slice of life: Ecologically valid methods for research on social relationships and health across the lifespan. Soc Personal Psychol Compass. 2017;e12356. doi: 10.1111/spc3.12356.
Rosas LG, Lv N, Xiao L, Lewis MA, Zavella P, Kramer MK, Luna V, Ma J. Evaluation of a culturally-adapted lifestyle intervention to treat elevated cardiometabolic risk of Latino adults in primary care (Vida Sana): A randomized controlled trial. Contemp Clin Trials. 2016 May;48:30-40. [See abstract.]
Ma J, Rosas LG, Lv N. Precision lifestyle medicine: a new frontier in the science of behavior change and population health. Am J Prev Med. 2016 Mar;50(3):395-7. [See abstract.]
Ma J, Strub P, Lv N, Xiao L, Camargo CA Jr, Buist AS, et al. Pilot randomised trial of a healthy eating behavioural intervention in uncontrolled asthma. Eur Respir J. 2016 Jan;47(1):122-32. [See abstract.]
Lv N, Xiao L, Ma J. Weight management interventions in adult and pediatric asthma populations: a systematic review. J Pulm Respir Med. 2015;5(232). [See abstract.]
Rosas LG, Lv N, Azar K, Xiao L, Yank V, Ma J. Applying the Pragmatic-Explanatory Continuum Indicator Summary model in a primary care-based lifestyle intervention trial. Am J Prev Med. 2015;49(3 Suppl 2):S208-14. [See abstract.]
Tsai SA, Lv N, Xiao L, Ma J. Gender differences in weight-related attitudes and behaviors among overweight and obese adults in the United States. Am J Mens Health. 2016 Sep;10(5):389-98. doi: 10.1177/1557988314567223.
Burke LE, Ma J, Azar KM, Bennett GG, Peterson ED, Zheng Y, et al. Current science on consumer use of mobile health for cardiovascular disease prevention: a scientific statement from the American Heart Association. Circulation. 2015;132(12):1157-213. [See abstract.]
Ma J, Yank V, Lv N, Goldhaber-Fiebert JD, Lewis MA, Kramer MK, et al. Research aimed at improving both mood and weight (RAINBOW) in primary care: A type 1 hybrid design randomized controlled trial. Contemp Clin Trials. 2015;43:260-78. [See abstract.]
Rosas LG, Thiyagarajan S, Goldstein BA, Drieling RL, Romero PP, Ma J, Yank V, Stafford RS. The effectiveness of two community-based weight loss strategies among obese, low-income US Latinos. J Acad Nutr Diet. 2015;115(4):537-50.e2. [See abstract.]
Notable Honors
IHRP Fellow