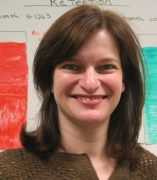 Kathleen R. Diviak, PhD
Director, Data Management Core
Contact
Building & Room:
528 Westside Research Office Bldg.
Address:
1747 West Roosevelt Road Chicago, IL 60608
Office Phone:
Email:
About
Dr. Kathleen Diviak is the director of the Data Management Core of the Institute for Health Research and Policy of the University of Illinois at Chicago and an IHRP Fellow. A licensed clinical psychologist, Dr. Diviak has participated on multidisciplinary tobacco control research teams for over 20 years.
Dr. Diviak's expertise is in adolescent and young adult tobacco use, ecological momentary assessment (EMA) study design and implementation, and recruitment and retention in longitudinal studies of health behavior.
As the investigator responsible for the recruitment and retention the cohort of nearly 1,300 study participants in the NCI-funded longitudinal study, Social-Emotional Contexts of Adolescent and Young Adult Smoking Patterns, Dr. Diviak has over a decade of experience carrying out the work of longitudinal studies of health behavior -- in laboratory, clinic, and community settings -- with demanding study protocols, ranging from week-long EMA to videotaped home observations of family discussions. She is greatly skilled in developing recruitment strategies as well as partnering with community members, organizations, and businesses for longitudinal research and health interventions.
Dr. Diviak earned her doctorate in clinical psychology at the University of Illinois at Chicago, where she wrote her dissertation on smoking cessation.
Selected Publications
For a more detailed list of articles co-authored by Dr. Diviak, see this edited PubMed list.
Gonzalez R, Schuster RM, Mermelstein RM, Diviak KR. The role of decision-making in cannabis-related problems among young adults. Drug Alcohol Depend. 2015 Sep 1;154:214-21. [See abstract.]
Gonzalez R, Schuster RM, Mermelstein RJ, Vassileva J, Martin EM, Diviak KR. Performance of young adult cannabis users on neurocognitive measures of impulsive behavior and their relationship to symptoms of cannabis use disorders. J Clin Exp Neuropsychol. 2012;34(9):962-76. [See abstract.]
Sterling KL, Mermelstein R, Turner L, Diviak K, Flay B, Shiffman S. Examining the psychometric properties and predictive validity of a youth-specific version of the Nicotine Dependence Syndrome Scale (NDSS) among teens with varying levels of smoking. Addict Behav. 2009 Jun-Jul;34(6-7):616-9. [See abstract.]
Diviak KR, Wahl SK, O'Keefe JJ, Mermelstein RJ, Flay BR. Recruitment and retention of adolescents in a smoking trajectory study: who participates and lessons learned. Subst Use Misuse. 2006;41(2):175-82.[See abstract.]
Diviak KR, Curry SJ, Emery SL, Mermelstein RJ. Human participants challenges in youth tobacco cessation research: researchers' perspectives. Ethics Behav. 2004;14(4):321-334.[See abstract.]
Notable Honors
IHRP Fellow