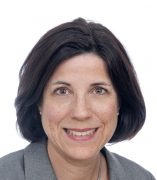 Lisa M. Powell, PhD
Professor and Director of Health Policy and Administration
Director, Illinois Prevention Research Center
Contact
Building & Room:
448 Westside Research Office Bldg.
Address:
1747 West Roosevelt Road Chicago, IL 60608
Office Phone:
Fax:
Email:
About
Lisa Powell is professor and division director of health policy and administration in the University of Illinois at Chicago (UIC) School of Public Health. She directs the Illinois Prevention Research Center, and is a Fellow of the Institute for Health Research and Policy at the UIC. She also holds an appointment as a Fellow at Queen's University in Kingston, Ontario, Canada. Prior to joining UIC, Dr. Powell was an associate professor of economics in the School of Policy Studies at Queen's University.
Professor Powell has published and presented numerous papers in the area of labor economics. More recently, her research has focused on the economics of health. She has examined the impact of alcohol use among youth and educational and violence-related outcomes and the importance of peer effects on youth smoking behavior. Much of Professor Powell's current work focuses on the impact of economic and environmental factors on physical activity and obesity. She is the principal investigator of the Illinois Prevention Research Center, funded by the Centers for Disease Control and Prevention, at IHRP.
Dr. Powell was named UIC Distinguished Researcher of the Year in the Social Sciences for 2013.
Research Interests
Dr. Powell's current research is on assessing the importance of economic and environmental factors (such as food prices and access to food stores, restaurants, and parks, gyms and other facilities for physical activity, school policies, and media) on food consumption and physical activity behaviors and as determinants of BMI and the prevalence of obesity.
Selected Publications
Find more articles by Dr. Powell on this PubMed list.
Singleton CR, Li Y, Odoms-Young A, Zenk SN, Powell LM. Change in Food and Beverage Availability and Marketing Following the Introduction of a Healthy Food Financing Initiative-Supported Supermarket. Am J Health Promot. 2019 May;33(4):525-533. doi: 10.1177/0890117118801744.
Leider J, Powell LM. Sugar-sweetened beverage prices: Variations by beverage, food store, and neighborhood characteristics, 2017. Prev Med Rep. 2019 Apr 29;15:100883. doi: 10.1016/j.pmedr.2019.100883.
Chaloupka FJ, Powell LM, Warner KE. The Use of Excise Taxes to Reduce Tobacco, Alcohol, and Sugary Beverage Consumption. Annu Rev Public Health. 2019;40:187–201. doi:10.1146/annurev-publhealth-040218-043816.
Tarlov E, Wing C, Gordon HS, Matthews SA, Jones KK, Powell LM, Zenk SN. Does Effectiveness of Weight Management Programs Depend on the Food Environment? Health Serv Res. 2018 Dec;53(6):4268-4290. doi: 10.1111/1475-6773.13043. [See abstract]
Zenk SN, Tarlov E, Powell LM, et al. Weight and Veterans' Environments Study (WAVES) I and II: Rationale, Methods, and Cohort Characteristics. Am J Health Promot. 2018;32(3):779–794. doi:10.1177/0890117117694448.
Zenk SN, Tarlov E, Wing CM, Matthews SA, Tong H, Jones KK, Powell L. Long-Term Weight Loss Effects of a Behavioral Weight Management Program: Does the Community Food Environment Matter? Int J Environ Res Public Health. 2018 Jan 26;15(2). pii: E211. doi: 10.3390/ijerph15020211. [See abstract]
Wada R, Chaloupka FJ, Powell LM, Jernigan DH. Employment impacts of alcohol taxes. Prev Med. 2017;105S:S50–S55. doi:10.1016/j.ypmed.2017.08.013.
Glanz K, Handy SL, Henderson KE, Slater SJ, Davis EL, Powell LM. Built environment assessment: Multidisciplinary perspectives. SSM Popul Health. 2016 Feb 13;2:24-31. doi: 10.1016/j.ssmph.2016.02.002. [See abstract]
Rimkus L, Isgor Z, Ohri-Vachaspati P, Zenk SN, Powell LM, Barker DC, Chaloupka FJ. Disparities in the Availability and Price of Low-Fat and Higher-Fat Milk in US Food Stores by Community Characteristics. J Acad Nutr Diet. 2015 Dec;115(12):1975-85. [See abstract.]
Nguyen BT, Powell LM. Supplemental nutrition assistance program participation and sugar-sweetened beverage consumption, overall and by source. Prev Med. 2015 Dec;81:82-6. [See abstract.]
Glanz K, Handy SL, Henderson KE, Slater SJ, Davis EL, Powell LM.  Built environment assessment: Multidisciplinary perspectives. SSM Popul Health. 2016 Dec;2:24-31. [See article.]
Powell LM, Kumanyika SK, Isgor Z, Rimkus L, Zenk SN, Chaloupka FJ. Price promotions for food and beverage products in a nationwide sample of food stores. Prev Med. 2016 May;86:106-13. [See abstract.]
Nguyen BT, Powell LM. Supplemental nutrition assistance program participation and sugar-sweetened beverage consumption, overall and by source. Prev Med. 2015 Dec;81:82-86. [See abstract.]
Zenk SN, Powell LM, Isgor Z, Rimkus L, Barker DC, Chaloupka FJ. Prepared food availability in U.S. food stores: a national study. Am J Prev Med. 2015 Oct;49(4):553-62. [See abstract.]
Schermbeck RM, Powell LM. Nutrition recommendations and the Children's Food and Beverage Advertising Initiative's 2014 approved food and beverage product list. Prev Chronic Dis. 2015;12:140472. [See abstract.]
Powell LM, Nguyen BT, Dietz WH. Energy and nutrient intake from pizza in the United States. Pediatrics. 2015 Jan 19. [Epub ahead of print] [See abstract.]
Zenk SN, Powell LM, Rimkus L, Isgor Z, Barker DC, Ohri-Vachaspati P, Chaloupka F. Relative and absolute availability of healthier food and beverage alternatives across communities in the United States. Am J Public Health. 2014 Nov;104(11):2170-2178. [See abstract.]
Ohri-Vachaspati P, Isgor Z, Rimkus L, Powell LM, Barker DC, Chaloupka FJ. Child-directed marketing inside and on the exterior of fast food restaurants. Prev Med. 2015 Jan;48(1):22-30. [See abstract.]
Mandal B, Powell LM. Child care choices, food intake, and children's obesity status in the United States. Econ Hum Biol. 2014 Jul;14:50-61. [See abstract.]
Kornfield R, Szczypka G, Powell LM, Emery SL. Televised obesity-prevention advertising across US media markets: exposure and content, 2010-2011. Public Health Nutr. 2014 Jul 30:1-11. [See abstract.]
Nguyen BT, Powell LM. The impact of restaurant consumption among US adults: effects on energy and nutrient intakes Public Health Nutr. 2014 Jul 30:1-8. [See abstract.]
Powell LM, Wada R, Kumanyika SK. Racial/ethnic and income disparities in child and adolescent exposure to food and beverage television ads across the U.S. media markets. Health Place. 2014 Jul 30;29:124-131. [See abstract.]
Powell LM, Wada R, Persky JJ, Chaloupka FJ. Employment impact of sugar-sweetened beverage taxes. Am J Public Health. 2014 Apr;104(4):672-7. [See abstract.]
Isgor Z, Powell LM, Wang Y. Multivariable analysis of the association between fathers' and youths' physical activity in the United States. BMC Public Health. 2013 Nov 14;13(1):1075. [See abstract.]
Powell LM, Schermbeck RM, Chaloupka FJ. Nutritional content of food and beverage products in television advertisements seen on children's programming. Child Obes. 2013 Nov 8;2013 Dec;9(6):524-31. [See abstract.]
Zenk SN, Powell LM, Odoms-Young AM, Krauss R, Fitzgibbon ML, Block D, Campbell RT. Impact of the revised Special Supplemental Nutrition Program for Women, Infants, and Children (WIC) food package policy on fruit and vegetable prices. J Acad Nutr Diet. 2014 Feb;114(2):288-96. [See abstract.]
Taber DR, Chriqui JF, Perna FM, Powell LM, Slater SJ, Chaloupka FJ. Association between state physical education (PE) requirements and PE participation, physical activity, and body mass index change. Prev Med. 2013 Nov;57(5):629-33. [See abstract.]
Powell LM, Harris JL, Fox T. Food marketing expenditures aimed at youth: putting the numbers in context. Am J Prev Med. 2013 Oct;45(4):453-61. [See abstract.]
Rimkus L, Powell LM, Zenk SN, Han E, Ohri-Vachaspati P, Pugach O, Barker DC, Resnick EA, Quinn CM, Myllyluoma J, Chaloupka FJ. Development and reliability testing of a food store observation form. J Nutr Educ Behav. 2013 Nov-Dec;45(6):540-8. [See abstract.]
Chriqui JF, Chaloupka FJ, Powell LM, Eidson SS. A typology of beverage taxation: multiple approaches for obesity prevention and obesity prevention-related revenue generation. J Public Health Policy. 2013 May 23. Aug;34(3):403-23. [See abstract.]
Taber DR, Chriqui JF, Powell L, Chaloupka FJ. Association between state laws governing school meal nutrition content and student weight status: implications for new USDA school meal standards. JAMA Pediatr. 2013 Jun 1;167(6):513-9. [See abstract.]
Han E, Kim TH, Powell LM. Beverage consumption and individual-level associations in South Korea. BMC Public Health. 2013 Mar 6;13(1):195. [See abstract.]
Han E, Powell LM, Kim TH. Trends in exposure to television food advertisements in South Korea. Appetite. 2013 Mar;62:225-31. [See abstract.]
Powell LM, Chriqui JF, Khan T, Wada R, Chaloupka FJ. Assessing the potential effectiveness of food and beverage taxes and subsidies for improving public health: a systematic review of prices, demand and body weight outcomes. Obes Rev. 2013 Feb;14(2):110-28. [See abstract.]
Powell LM, Nguyen BT. Fast-food and full-service restaurant consumption among children and adolescents: effect on energy, beverage, and nutrient intake. JAMA Pediatr. 2013 Jan;167(1):14-20. [See abstract.]
Other Titles
Research Professor, Department of Economics
Member, UI Cancer Center 
Notable Honors
IHRP Fellow
UIC Distinguished Researcher of the Year in Social Sciences and the Humanities, 2013