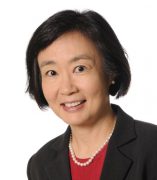 Naoko Muramatsu, PhD
Professor, Community Health Sciences
Faculty Affiliate, Department of Sociology
Contact
Building & Room:
594 Westside Research Office Bldg.
Address:
1747 West Roosevelt Road Chicago, IL 60608
Office Phone:
Email:
Related Sites:
About
Dr. Naoko Muramatsu is a professor in the Division of Community Health Sciences in the UIC School of Public Health and a faculty affiliate in the Department of Sociology in the UIC College of Liberal Arts and Sciences. She conducts her research at the Institute for Health Research and Policy, where she is recognized as a Fellow.
Dr. Muramatsu conducts research that improves the quality of care and well-being of diverse aging populations locally and globally. Her research investigates how place impacts aging, health, work, and caregiving experiences. Guided by life course perspectives, Dr. Muramatsu advances health equity by identifying critical factors that lead to disparities in stressors, resources, and health over the life course and by intervening on those factors. She uses multilevel longitudinal analysis and mixed methods to understand and intervene upon the individual, organizational, and system-level factors that impact aging populations and the quality of health care systems.
As principal investigator of multiple studies funded by the National Institute on Aging, Dr. Muramatsu has examined how state-, community-, and individual-level factors influence the well-being of older adults. Her current research develops cost-effective, sustainable community-based health promotion programs in partnership with older adults, caregivers, community-based organizations, and multidisciplinary research teams.
A Fellow of The Gerontological Society of America, Dr. Muramatsu serves on the jury of the Ryman Prize as well as on the editorial boards of The Gerontologist. and the Journal of Aging & Social Policy.
Research Interests
Aging; long-term care; caregiving; workplace health; access to and quality of health services; well-being and quality of life; global aging, technology, and health.
Selected Publications
Access a wider selection of Dr. Muramatsu's publications in this PubMed selection.
Muramatsu, N., Yin, L. 2019. Gentle physical activity intervention led by caregivers in a Medicaid home care program: Do outcomes differ between family and non-family caregiving dyads? Innovation in Aging, 3(3). Special issue, Translational Research on Caregiving. https://doi.org/10.1093/geroni/igz034 https://academic.oup.com/innovateage/article/3/3/igz034/5560144
Muramatsu, N., Sokas, R.K., Lukyanova, V., Zanoni, J.  2019. Perceived stress and health among home care aides caring for older clients in a Medicaid-funded home care program. Journal of Health Care for the Poor and Underserved, 30(2):721-238. doi:10.1353/hpu.2019.0052 
Mitchell, U.A., Chebli, P., Ruggiero, L., Muramatsu, N. 2019. The digital divide in health-related technology use: The significance of race/ethnicity. The Gerontologist, 59(1):.6-14. https://doi.org/10.1093/geront/gny138.
Chin, M.H., King, P.T., Jones, R.G., Jones, B., Ameratunga, S.N., Muramatsu, N., Derrett, S.  2018. Lessons for achieving health equity comparing Aotearoa / New Zealand and the United States.  Healthy Policy, 122(8):837-853.  doi: 10.1016/j.healthpol.2018.05.001.
Stiehl E, Jones-Jack NH, Baron S, Muramatsu N. Worker well-being in the United States: Finding variation across job categories. Prev Med Rep. 2018 Oct 18;13:5-10. doi: 10.1016/j.pmedr.2018.10.006. 
Muramatsu N, Sokas RK, Chakraborty A, Zanoni JP, Lipscomb J. Slips, Trips, and Falls Among Home Care Aides: A Mixed-Methods Study. J Occup Environ Med. 2018;60(9):796–803. doi:10.1097/JOM.0000000000001355.
Muramatsu N, Yin L, Berbaum ML, et al. Promoting Seniors' Health With Home Care Aides: A Pilot. Gerontologist. 2018;58(4):779–788. doi:10.1093/geront/gnx101.
Muramatsu N, Yin L, Lin TT. Building Health Promotion into the Job of Home Care Aides: Transformation of the Workplace Health Environment. Int J Environ Res Public Health. 2017;14(4):384. Published 2017 Apr 5. doi:10.3390/ijerph14040384.
Muramatsu N, Madrigal J, Berbaum ML, Henderson VA, Jurivich DA, Zanoni J, Marquez DX, Madrid KC. Co-learning with home care aides and their clients: collaboratively increasing individual and organizational capacities. Gerontol Geriatr Educ. 2015;36(3):261-77. [See abstract.]
Tsutsui T, Muramatsu N, Higashino S. Changes in perceived filial obligation norms among coresident family caregivers in Japan. Gerontologist. 2013 Sep 5-2014 Oct;54(5):797-807. [See abstract.]
Gray JA, Muramatsu Naoko. When the job has lost its appeal: intentions to quit among direct care workers. J Intellect Dev Disabil. 2013 Jun;38(2):124-33. [See abstract.]
Muramatsu N, Akiyama H. Japan: Super-aging society preparing for the future. Gerontologist. 2011;51(4):425-432. [See abstract.]
Muramatsu N, Yin H, Hedeker D. Functional declines, social support, and mental health in the elderly: Does living in a state supportive of home and community-based services make a difference? Soc Sci Med. 2010 Apr;70(7):1050-8. [See abstract.]
Muramatsu N, Hoyem RL, Yin H, Campbell RT. Place of death among older Americans: does state spending on home- and community-based services promote home death? Med Care. 2008 Aug;46(8):829-38. [See abstract.]
Tsutsui T, Muramatsu N. Japan's universal long term care system reform of 2005: Containing costs and realizing a vision. J Am Geriatr Soc. 2007;55(9):1458-1463.[See abstract.]
Muramatsu N, Yin H, Campbell RT, Hoyem RL, Jacob MA, Ross CO. Risk of nursing home admission among older Americans: does states' spending on home- and community-based services matter? J Gerontol B Psychol Sci Soc Sci. 2007;62(3):S169-78.[See abstract.]
Tsutsui T, Muramatsu N. Care Needs Certification in the Long-Term Care Insurance System of Japan. J Am Geriatr Soc. 2005;53:522-527.[See abstract.]
Muramatsu N, Mensah E, Cornwell T.  A physician house call program for the homebound. Jt Comm J Qual Saf. 2004;30(5):266-276.[See abstract.]
Muramatsu N. County-level income inequality and depression among older Americans. Health Serv Res. 2003;38(6 Pt 2):1863-83.[See abstract.]
Muramatsu N, Cornwell T. Needs for physician housecalls–views from health and social service providers.  Home Health Care Serv Q. 2003;22(2):17-29.[See abstract.]
Chin MH, Muramatsu N. What is the quality of quality of medical care measures? Rashomon-like relativism and real-world applications. Perspect Biol Med. 2003;46(1):5-20; discussion 21-3.[See abstract.]
Muramatsu N, Campbell RT. State expenditures on home and community based services and use of formal and informal personal assistance: a multilevel analysis. J Health Soc Behav. 2002;43:107-124.[See abstract.]
Notable Honors
IHRP Fellow
Fulbright Scholarship
Fellow, Gerontological Society of America
Delta Omega Honor Society