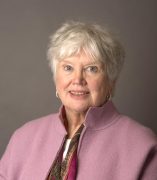 Susan L. Hughes, DSW
Codirector, Center for Research on Health and Aging
Senior Research Scientist, Institute for Health Research and Policy
Contact
Building & Room:
345 Westside Research Office Bldg.
Address:
1747 West Roosevelt Road Chicago, IL 60608
Office Phone:
Fax:
Email:
About
Dr. Susan L. Hughes is a professor of community health sciences in the UIC School of Public Health and the codirector of IHRP's Center for Research on Health and Aging.
Dr. Hughes, a gerontologist and health policy analyst, has conducted numerous studies in the field of aging for more than 20 years with support from the National Institute on Aging, the National Institute on Arthritis and Musculoskeletal Disease, the Veterans Health Administration and numerous private foundations. She has considerable experience conducting multi-site randomized trials. She conducted the national evaluation of the 20-site Living at Home Program that was funded by the Commonwealth Fund and Pew Charitable Trusts and conducted a cooperative study of the effectiveness of team-managed home-based primary care at 16 VA hospitals across the country (see Hughes et al., 2000).
Dr. Hughes is principal investigator of the UIC Midwest Roybal Center for Translation and which has completed four longitudinal intervention studies about exercise adherence in older adults. She designed the award-winning, evidence-based Fit and Strong! physical activity/behavior change program for older adults with arthritis. In collaboration with the National Council on Aging, she directed a multi-site randomized study of outcomes among older adults participating in physical activity programs at three community-based best-practice sites across the country.
Dr. Hughes is a Fellow of the Gerontological Society of America. In 2011, she was named UIC Researcher of the Year in Social Sciences and the Humanities.
Research Interests
Long-term care policy, cost, quality, and effectiveness of community-based services, prevention of disability, adoption of and adherence to wellness behavior and translation research
Selected Publications
For more publications by Dr. Hughes, see this selection on the PubMed website.
Mears M, Tussing-Humphreys L, Cerwinske L, Tangney C, Hughes SL, Fitzgibbons M, Gomez-Perez S. Associations between Alternate Healthy Eating Index-2010, Body Composition, Osteoarthritis Severity, and Interleukin-6 in Older Overweight and Obese African American Females with Self-Reported Osteoarthritis. Nutrients. 2018 Dec 22;11(1). pii: E26. doi: 10.3390/nu11010026. [See abstract]
Hughes SL, Tussing-Humphreys L, Schiffer L, Smith-Ray R, Marquez DX, DeMott AD, Berbaum ML, Fitzgibbon ML. Fit & Strong! Plus Trial Outcomes for Obese Older Adults with Osteoarthritis. Gerontologist. 2018 Nov 26. doi: 10.1093/geront/gny146. [See abstract]
Fitzgibbon ML, Tussing-Humphreys L, Schiffer L, Smith-Ray R, Demott AD, Martinez M, Berbaum ML, Huber GM, Hughes SL. Fit & Strong! Plus: Descriptive Demographic and Risk Characteristics in a Comparative Effectiveness Trial for Older African-American Adults with Osteoarthritis. J Aging Res Clin Pract. 2018;7(1):9-16. doi: 10.14283/jarcp.2018.3. [See abstract]
Duarte N, Hughes SL, Paúl C. Cultural adaptation and specifics of the Fit & Strong! program in Portugal. Transl Behav Med. 2019 Jan 1;9(1):67-75. doi: 10.1093/tbm/iby003. [See abstract]
Smith-Ray RL, Hughes SL, Prohaska TR, Little DM, Jurivich DA, Hedeker D. Impact of cognitive training on balance and gait in older adults. J Gerontol B Psychol Sci Soc Sci. 2015 May;70(3):357-66. [See abstract.]
Smith-Ray RL, Makowski-Woidan B, Hughes SL. A randomized trial to measure the impact of a community-based cognitive training intervention on balance and gait in cognitively intact black older adults. Health Educ Behav. 2014 Oct;41(1 Suppl):62S-9S. [See abstract.]
Marquez DX, Wilbur J, Hughes S, Berbaum ML, Wilson R, Buchner DM, McAuley E. B.A.I.L.A. – A Latin dance randomized controlled trial for older Spanish-speaking Latinos: Rationale, design, and methods. Contemp Clin Trials. 2014 Jul;38(2):397-408. [See abstract.]
Desai PM, Hughes SL, Peters KE, Mermelstein RJ. Impact of telephone reinforcement and negotiated contracts on behavioral predictors of exercise maintenance in older adults with osteoarthritis. Am J Health Behav. 2014 May;38(3):465-77. [See abstract.]
Smith-Ray RL, Fitzgibbon ML, Tussing-Humphreys L, Schiffer L, Shah A, Huber GM, Braunschweig C, Campbell RT, Hughes SL. Fit and Strong! Plus: design of a comparative effectiveness evaluation of a weight management program for older adults with osteoarthritis. Contemp Clin Trials. 2014 Mar;37(2):178-88. [See abstract.]
Notable Honors
UIC Researcher of the Year in Social Sciences and the Humanities, 2011
Fellow, Gerontological Society of America
Leadership Award, Gerontological Health Section, American Public Health Association