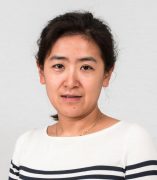 Tianxiu Wang, PhD, MS
Biostatistician, IHRP Methodology Research Core
Contact
Building & Room:
426 Westside Research Office Bldg.
Address:
1747 West Roosevelt Road Chicago, IL 60608
Office Phone:
Email:
About
Tianxiu Wang, PhD, is a biostatistician in the Methdology Research Core of the UIC Institute for Health Research and Policy. Prior to joining IHRP in 2017, she worked on research for over six years at the University of Pittsburgh, including as a postdoctoral fellow in the School of Medicine.
Dr. Wang has experience in the design and analysis of clinical data using general and generalized linear mixed models, survival analysis, latent group-based trajectory models, prediction model building, environmental/occupational risk assessment using mathematical modeling, and meta-analysis.
Dr. Wang earned a PhD in biostatistics from the University of Pittsburgh in 2015. In her dissertation, Dr. Wang developed a competing risks regression model under random signs censoring using pseudo-values, which can be applied to modify/improve the organ allocation algorithm for liver transplant candidates.
Selected Publications
Nimgaonkar VL, Yolken RH, Wang T, Chang CC, McClain L, McDade E, Snitz BE, Ganguli M. Temporal cognitive decline associated with exposure to infectious agents in a population-based, aging cohort. Alzheimer Dis Assoc Disord. 2016 Jul-Sep;30(3):216-222. [See abstract.]
Snitz BE, Small BJ, Wang T, Chang CC, Hughes TF, Ganguli M. Do subjective memory complaints lead or follow objective cognitive change? A five-year population study of temporal influence. J Int Neuropsychol Soc. 2015 Oct;21(9):732-42. [See abstract.]
Wu F, Wang T. Risk assessment of upper tract urothelial carcinoma related to aristolochic acid. Cancer Epidemiol Biomarkers Prev. 2013;22:812–820. [See abstract.]